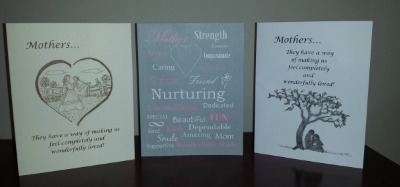 Mother's Day Card Contest
Sharpen up your artistic ability.....Mom's House is looking for someone to ILLUSTRATE our 2016 Mother's Day Card, so we are holding a CONTEST!
Please submit your 5x7 illustration and the entry/waiver form (click here to download the entry form) to momshouseny1@gmail.com or to mail to:  Mom's House, 770 Harry L Drive, Johnson City, NY 13790 by December 15. The Mom's House family will select the winning illustration and the artist will be awarded a $100 VISA gift card with their name acknowledged in Mom's House promotional materials.
Support Mom's House by shopping at Amazon Smile - click here to get started!
Welcome To Mom's House
Mom's House of Endicott, NY, Inc. was established in 1988 to help low-income, single parent families achieve their academic goals and realize a brighter future. 
This is accomplished by our offer of free NY state licensed childcare while parents are enrolled in school full-time; thus addressing the number one barrier that prevent single parents from completing their education.  In addition to receiving free childcare, parents are given food and clothing donations, encouragement, love, and emotional support.                                                                                                 
For our, services parents must agree to complete three hours per week of service time at Mom's House plus five hours of fundraising time per semester.  To further guarantee success, parents attend once-a-month workshops held at Mom's House on life skills that are necessary to grow as parents, students and career-minded individuals.  Workshop topics include resume writing, nutrition, legal advice, financial planning, parenting issues, health, etc.   
News & Announcements
---
FUNDRAISING UPDATE
Thank you for your support!
Bottle/can redemption: $5,707.59 (redeem your cans at: Jim Roma's Distribution, The Can Man, or Gerry Tull's Barn)
Funds for Futures: $9,426.39  (donation of your spare change)
USAgain donation clothing bin:  $428.41
2016 SaveAround Discount books: $325
Fall Candy Bars: $539.61
Would you like to honor a loved one by purchasing a brick or paver to be inset in our Memorial/Honor garden?  For details contact Mom's House at 607-644-9972 or email momshouseny1@gmail.com.